Have you ever thought about archery? Without being adequately prepared, there's a high chance of getting injured if you're not well-trained. 
Archery lessons reduce the chance of getting injured while you're holding a bow and arrows and guarantee the safety of everyone on the archery range. They also help improve your skills as an archer and prepare you for professional competitions.  
So, are archery lessons worth it?
Archery lessons are totally worth it because you learn about the different parts of your archery tools and how to use your bow and arrows properly. In addition, when you take lessons, you know which bow is actually best for you and what type of target you should practice. 
Taking archery lessons helps build your confidence as an archer, so you can practice archery without getting hurt or subjecting others to danger. Keep on reading to learn more about this topic. 
Who should take archery lessons?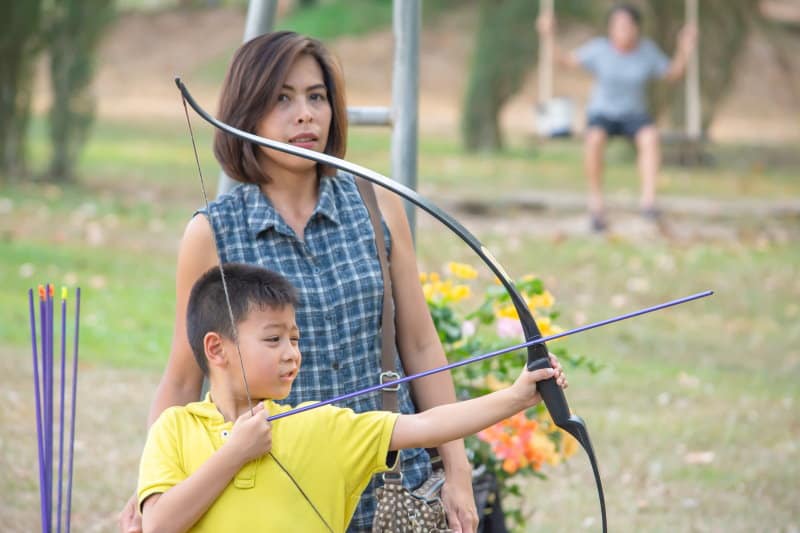 Archery lessons are available for everyone. Children as young as three years old can take archery lessons. Men, women, boys, and girls of all ages and all physical abilities can take lessons to practice target shooting. 
As a matter of fact, people with disabilities can safely practice archery. For example, Im Dong-Hyun is a Korean archer managed to set the team's and individual's world record in men's archery, although he is legally blind. 
Taking archery lessons will help boost your archery skills and overall self-confidence to help you practice target shooting in various settings. This is why you need to take archery lessons, whether you're taking lessons to take part in competitions or want to practice bowhunting. 
7 reasons why archery lessons are worth it
When you take archery lessons, you take what you learn and apply it throughout your life. Once you start practicing archery, the sport changes you forever and how you view different things. 
Every archery lesson can teach you a life lesson, whether you're target shooting alone or with others. Even when you go bowhunting, you learn more about the magic of nature, and you can enjoy the sense of accomplishment when you catch your favorite game animal. 
But if you're still hesitant about taking archery lessons, here are the most important 7 reasons that prove that archery lessons are totally worth it. 
1. Instructors teach you how to practice archery safely
When you practice archery with a certified instructor, you learn about the safest way to practice archery using a powerful weapon. A certified instructor will teach you how to set up your bow and use it to shoot your target accurately. 
Moreover, they will teach you the basic safety rules that should be followed every time you set up or use your bow and arrow, whether you're using your equipment alone or with other archers. 
After taking lessons, you'll have more confidence as an archer, and you will be able to understand the true potential of the weapon you're carrying. 
2. Certified instructors are professional
Although someone in your family or one of your friends might be good at archery, taking a lesson with a professional instructor is better. This person will teach you the right technique, and they can explain the physics of archery, the reason behind the right grip, or how to approach a certain situation. 
Moreover, an instructor will have more patience, even if you're not a fast learner. Instructors love teaching, so they won't mind repeating the same information several times until you've mastered your archery skills. 
3. Choose the right equipment
Choosing the right tools can be overwhelming, especially if you're a beginner archer. There are different types of bows and setups that you can consider, and picking the right one might be challenging if you're not that experienced because you don't know the difference between the different bow types. 
A professional instructor will explain the difference between various bow types, the kind of setup that works for you, the appropriate draw weight, and even the type of targets that you can buy and use for practice purposes. 
Then, he or she will walk you through the process of picking and getting used to your bow and arrow to improve your archery skills and guarantee that you'll be able to shoot your target accurately. 
4. Fix bad habits
If you have some experience with shooting a bow and arrow, taking archery lessons with a professional instructor will help you fix your bad habits. This includes having the wrong stance or holding your bow in the wrong way.
Although you might still be able to shoot your arrow, taking lessons with a professional instructor will minimize the chance of you missing your target and will help you improve your accuracy every single time. 
5. Improve physical skills
Some people are naturally talented, and they can quickly learn how to use the bow and arrow. However, this doesn't necessarily mean that they can use these tools safely. 
When you don't know how to hold your bow and arrow, you might damage your shoulder and back muscles, eventually affecting your stance. This can also lead to back pain that deprives you of target shooting. 
6. Increases your focus
Although archery lessons aim at improving your archery skills, you'll notice an overall improvement in your focus and attention. When you learn to use the bow and arrow, you start to pay attention to every detail because every little detail can affect the accuracy of your shot. 
Practicing archery is a sure way to become more focused as it improves your concentration. Many archers also learn to meditate to clear their heads before practicing using their bows. 
7. Boosts your self-confidence
With the right practice, you'll notice that you're more confident about your skills as an archer. You'll learn to set your archery goals and achieve them, which gives you a confidence boost. Archery combines both mental and physical aspects, and you'll be able to track your progress with the help of a certified instructor. 
Once you're able to shoot your target without missing it, you'll immediately enjoy a great sense of accomplishment and achievement that will tempt you to practice archery even more. The key is to learn about proper goal setting by using larger targets then picking smaller ones while increasing the distance to test your skills. 
Are archery lessons expensive?
Archery lessons don't have to be expensive. You can learn archery with a group and choose affordable archery equipment to hone your skills. But if you're serious about practicing archery, it will cost you more. 
Joining an archery school is the most budget-friendly option, as you get to practice archery for a price that can be as low as $10 per hour. Some schools also offer to rent archery tools until you're able to pick the most suitable setup that works for you. 
However, if you're planning to take part in target shooting competitions, you'll need to hire a private instructor. In this case, you can expect to pay about as much as $80 per hour. Some archery ranges offer classes as part of renting the range, but you'll have to pay for each one separately in some cases. 
Final thoughts
You can learn a lot by taking archery lessons as they aim at improving your mental and physical skills. If you want to learn more about different types of bows, click this link to read my article.